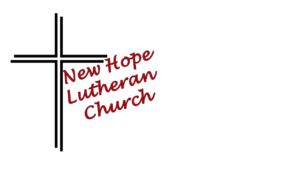 ---
There are many principles that guide us and make us the church that we are:
We show Hospitality to all

We pray, support, and share our gifts from God

We always strive to deepen our faith

We love God and our neighbors

We proclaim New Hope in Jesus

Music is a vital piece to our Worship

We accept all as fellow children of God

And above all…we depend on God for Leadership and Perseverance.
---
Welcome to New Hope Lutheran Church!!
We are so glad you're here!!   As mentioned up above, we have many things that guide us, but we are so much more.   Here at New Hope we accept everyone and invite you all to come and check out our worship service.  Our worship service starts at 9:00 am. "After worship, please stay for Coffee Hour, where we meet in fellowship to discuss God's grace and His work in our lives the previous week and explore our Christian faith together."
If you have any questions, feel free to contact our Administrative Assistant, Elainna at our office.  The number, email and address are located in the contact us portion.
Thank you so much for visiting our site and we hope to see you Sunday at 9:00 am for worship!! 🙂